Background and Training
Profile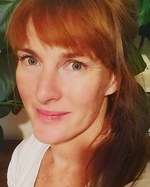 Katrina Morgan Scully trained in Anatomy and Physiology, Swedish Body Massage, Reflexology and Aromatherapy, gaining qualifications in both ITEC (1) and IIHHT (2). She bases her clinics in Abergavenny, Monmouthshire.
Katrina is a member of the International Council of Holistic Therapists and the Federation of Holistic Therapists. She is bound by a code of conduct and confidentiality and is committed to broadening her skills and study with continued and ongoing professional development.
Holistic Approach
The Holistic approach to healing is paramount, and Katrina draws upon a background of supportive work and creative art within the community and care environment.
Treatments are individually tailored to best support and meet the needs of each client, whether simply for relaxation, or for acute or chronic conditions. The aim though is to help the person as a whole, so it is much more than just the symptoms that are being treated.
International Therapy Examination Council.
International Institute of Health and Holistic Therapists.