Abergavenny Swedish Body Massage
in Monmouthshire Using Pure Organic Base Oils.
How Swedish Body Massage Works: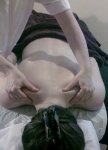 Swedish Body Massage involves pressing and manipulating the soft tissues of the body in order to induce relaxation of the muscles, easing tension on all levels.
This treatment can be calming and deeply relaxing, or invigorating and energising, depending on the clients needs.
Massage may help:
Ease lower back pain
Induce relaxation
Aid sleep
Relieve tension
Relieve anxiety and Stress
Massage works to improve and harmonise wellbeing.
When we are revitalised in this way, stress is reduced and this encourages a better balance within the body.
Therefore massage is often used effectively for regular and on-going maintanence.
GIFT VOUCHERS ARE AVAILABLE FOR ALL TREATMENTS.
FOR MORE INFORMATION AND APPOINTMENTS PLEASE RING OR EMAIL.
Call 07817 902 641 OR EMAIL
ALL ENQUIRES WELCOME.